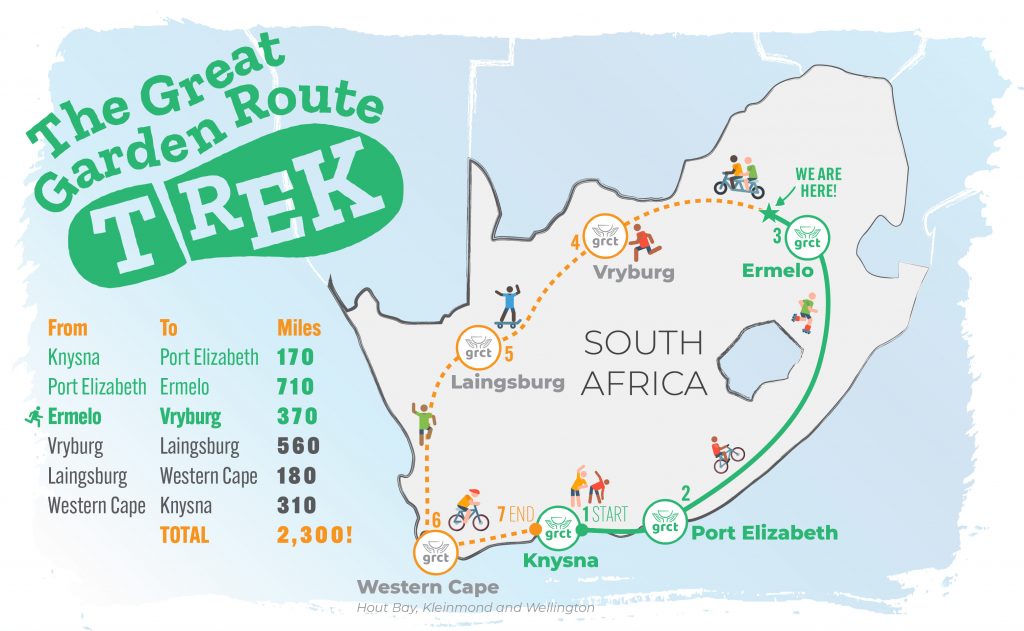 And we're off on our first ever virtual cycle/walk/run challenge!
Around 100 intrepid participants have now committed to the Great Garden Route Trek and we are well on our way! We have already run, walked, cycled, swum and rowed over 1,000 miles and have passed our feeding programmes in Port Elizabeth and Ermelo! More 'trekkers' are joining every day, so don't delay – join us on our journey!
Week 2 progress update from
Speedy Springbok …
Hello all you trekkers. I hope that your trekking is going according to plan and that your muscles are not aching too much! We have certainly clocked up the miles in the past week – in total 1,229 and that is only from those who have sent in their tallies! Well done! I would like to tell you a bit about our first two stops – Port Elizabeth and Ermelo.
Port Elizabeth, nicknamed the Friendly City and the Windy City (both for good reason), is situated on the coast. It is an important port and, because of its beaches, is popular with tourists. The GRCT has a number of feeding projects there providing e'Pap for both pre-schools and primary schools. Missionvale Care Centre, founded by the amazing Sister Ethel, an Irish nun, some thirty years ago, is an oasis in an area devastated by very high unemployment as well as HIV/AIDS and alcohol/substance abuse. It provides basic health care, has a primary school with about 250 pupils and provides food parcels for poor families, skills training and other forms of support for the local community. In addition to the e'Pap for the primary school children, the GRCT also funds sandwiches for lunch time and for the afternoon club which is run for the whole community, not only those at the school. (The picture shows e'Pap being delivered when the school was closed due to COVID restrictions.)
Then there are St Augustine's pre-school and John Masiza Primary School in Walmer Township where about 150 children get an e'Pap breakfast every morning.
A new project is providing e'Pap to a number of pre-schools which are being helped by Isivuno, a wonderful organisation which mentors pre-schools and train teachers. There are currently about 100 children being fed and, if the pilot is successful, this will be increased to 300.
Our second stop was Ermelo, 710 miles north of Port Elizabeth. It is a small town, which like many in rural areas, has suffered economically and there is a lot of poverty. The GRCT started feeding there two years ago through local connections. From one small pre-school this has expanded to include a number of others.
Thank you for your support. Not only are you doing a fantastic job cycling / running / walking / swimming / rowing, you are also making a huge difference to the lives of young children in need. Keep going, keep fit and stay safe.
Speedy Springbok
If you would like to read a bit more about our route from Knysna, click here.
To read Speedy Springbok's first blog entry, click here.
Great Trek Stories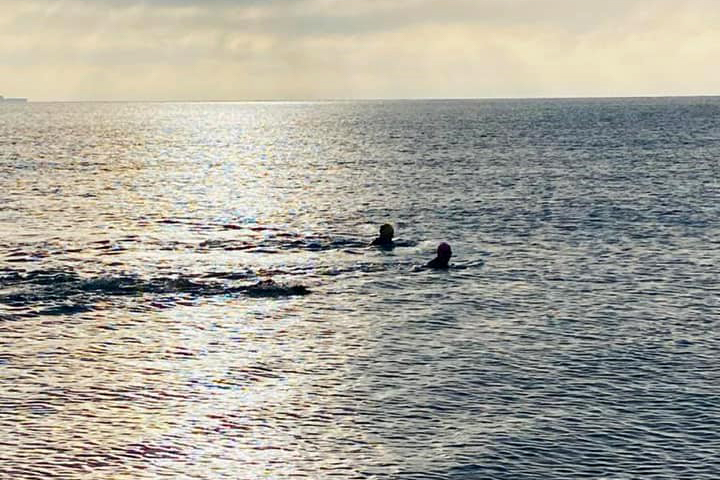 Swimming 42 km
In Brighton, Candice Davis and her friends have committed to swim 42 kilometres in the sea for the GRCT. By 7 January they had completed almost 32 kilometres already. What an amazing effort! They have also raised an impressive amount. If you wish to read Candice's fascinating story about her connection to e'Pap, here is the link: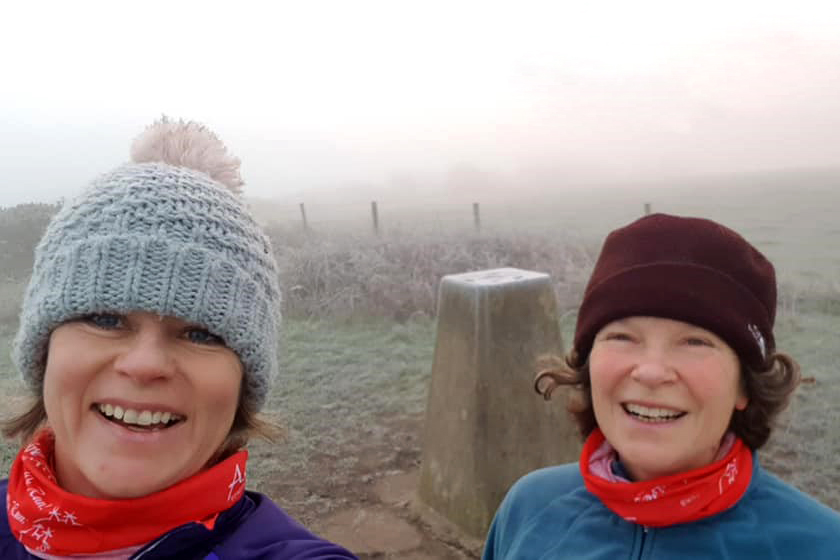 Runners and walkers
Runners and walkers from Hassocks are combining their energetic efforts in the beautiful Sussex countryside this month, in support of the GRCT. Thank you so much Mandy Murray and team!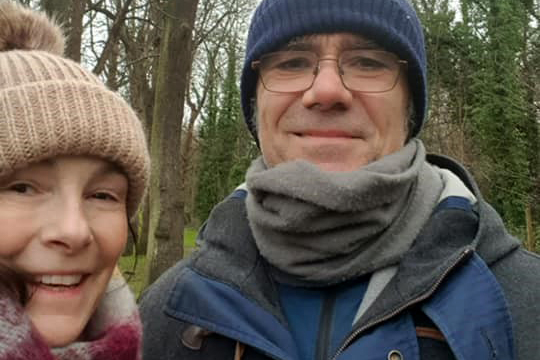 Walking in Richmond
Rebecca and her family are walking for the GRCT in Richmond, while her brother Rick is venturing out in a wintery Woodingdean. Rebecca says: "Seeing pictures of the children inspired me. These beautiful children deserve the opportunity to flourish and follow their dreams."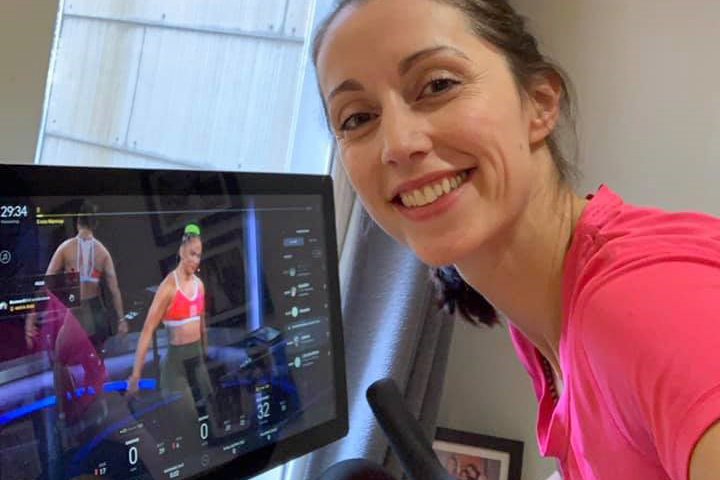 Indoor cycling
More indoor cyclists helping us make our way round the virtual route to all the feeding projects we fund. Thank you so much Catherine in Edinburgh and Philippa in Roedean!
Helping to feed South African children in need.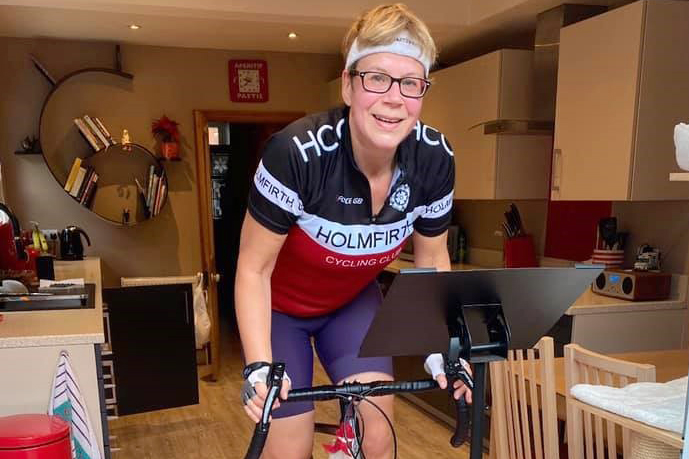 Cycling 772 km
Benedicte and her husband, who both love South Africa and particularly the Garden Route, are cycling an amazing 772 kms for the GRCT in their kitchen in Hove!
Helping to fund nutritious e'Pap breakfasts for South African children in need.