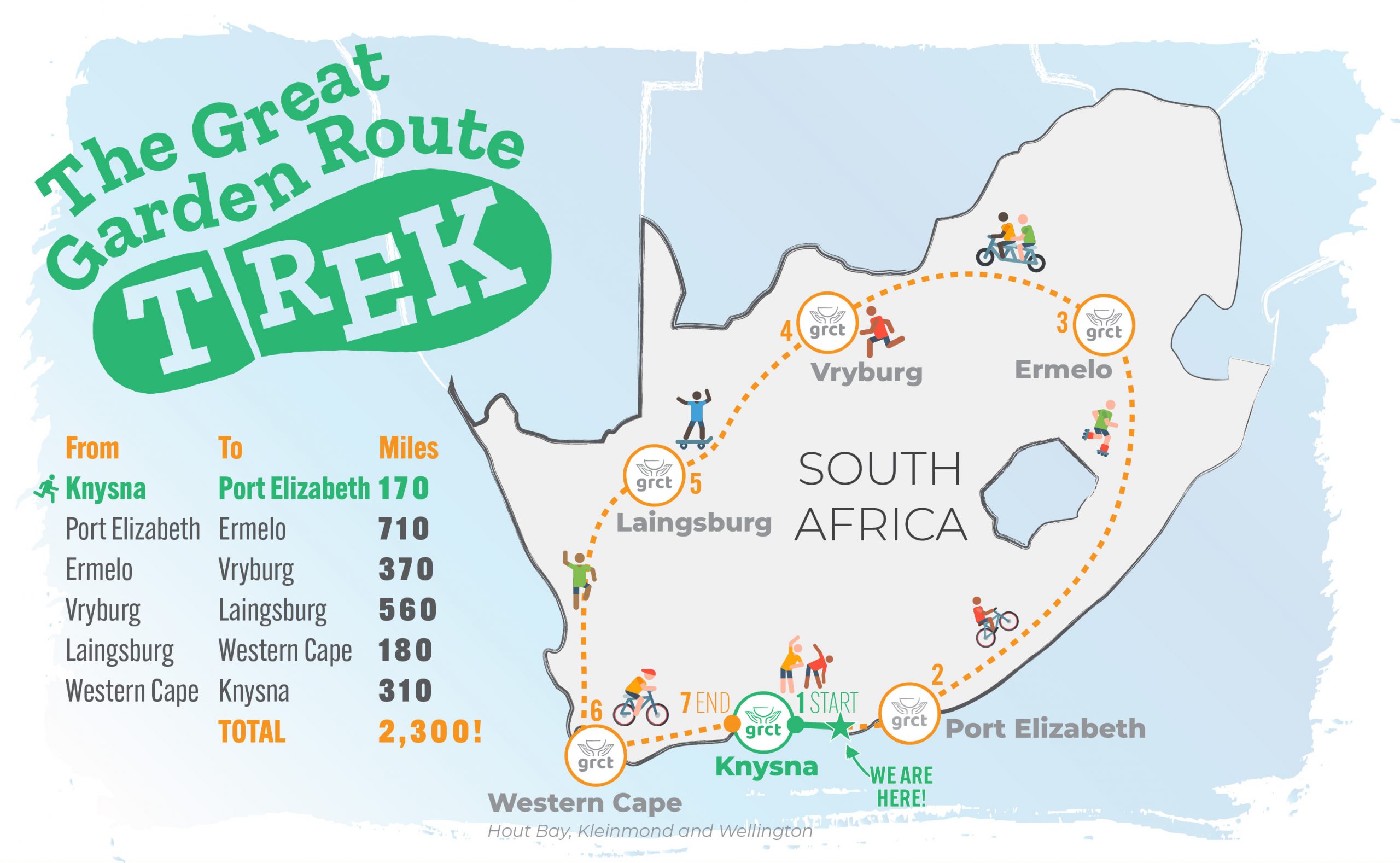 And we're off on our first ever virtual cycle/walk/run challenge!
We already have an amazing number of participants signed up to take part in the Great Garden Route Trek. We are covering miles by running, swimming, cycling, spinning, walking …
Week 1 progress update from
Speedy Springbok …
Good day, all you trekkers. The trustees of the GRCT wish you a happy, healthy and fulfilling new year. And what a way to start 2021 – trekking around sunny South Africa, visiting the GRCT projects en route and helping to feed children in need!
We start the trek in Knysna, one of the jewels of the Garden Route, where Peter and Shelley Godsell founded the e'Pap Children's Feeding Project in 2003. Penny Fleming, inspired by their work, set up the GRCT in the UK three years later. This picture shows just how beautiful Knysna is. It is a view towards The Heads from across the Lagoon (part of the Garden Route National Park), which opens out to the Indian Ocean. Those of you who have been lucky enough to visit will recognise this landmark instantly.
But what most tourists don't see are the communities that are hidden from view and they show a very different picture.
Here, and in similar areas close by, many people live in very basic houses, sometimes just shacks, and they struggle to make ends meet – especially now as the pandemic has had a devastating effect on the economy. A host of informal pre-schools and creches have sprung up over the years and Shelley and Peter, together with 100 volunteers, provide e'Pap for about 100 of them – in total some 5,000 children. The GRCT provides about half of the funding for this huge operation with the other half coming from local donors.
I know that you are raring to go so please watch the video to see the official Start. Finally, as the South Africans would say: put on your takkies (trainers), pack your biltong (dried meat) and naartjies (tangerines), and hamba kahle (go well)!
Great Trek Stories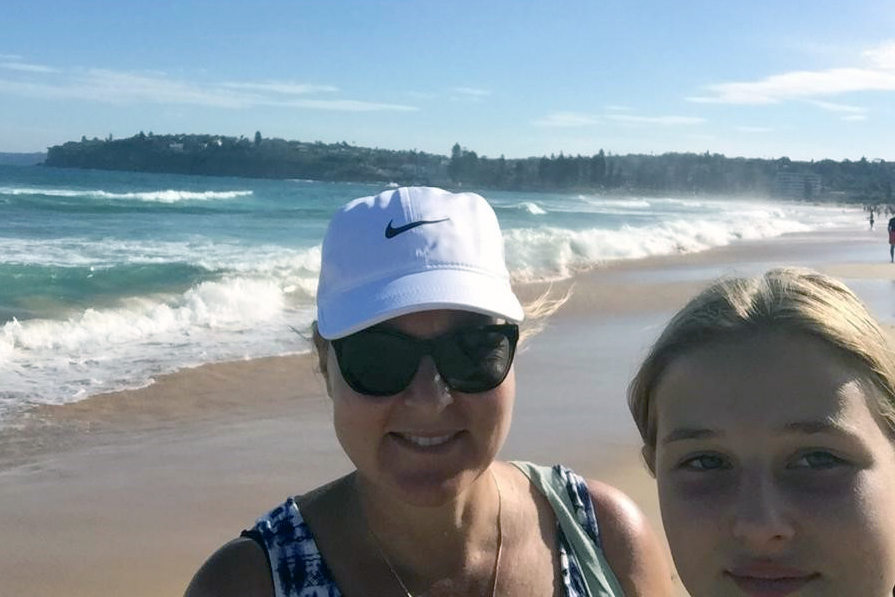 Walking 62.5 miles
Marian Fouche and her family are joining the trek and walking 62.5 miles along the scenic Sydney coastline this month.
Swimming 26 miles
Candice Davis and a team of 7 other swimmers are braving the winter waters in Brighton for the GRCT to jointly swim a 26 mile marathon over the course of this month.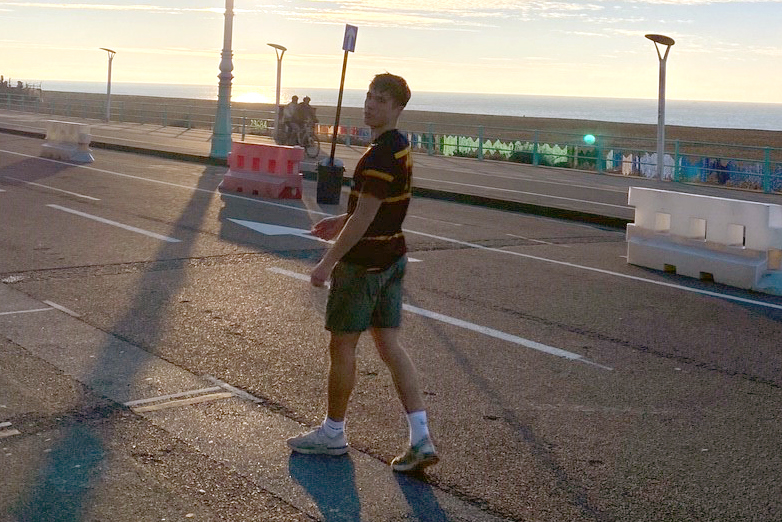 Regularly running 5km
Dan Cronje, currently on his gap year, is running 5km on a regular basis throughout the month to help us virtually travel the route mapped out.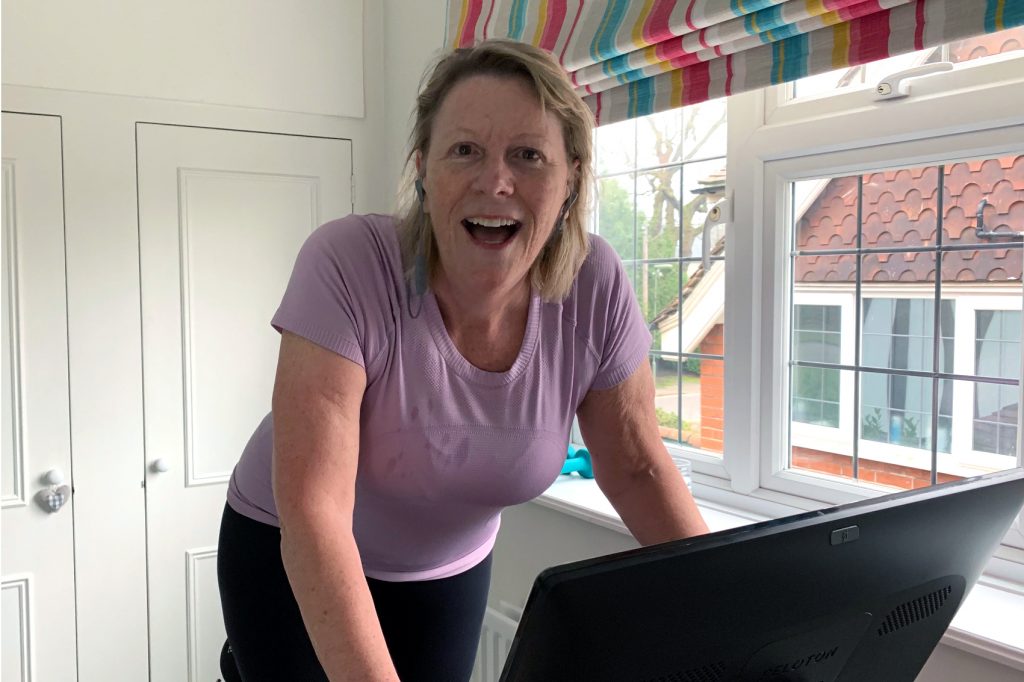 Cycling 500 miles
Trustee Nicki Galazka and her husband Peter, have committed to virtually cycle 500 miles between them through Janaury. Nicki commented 'It seemed like a good idea when we signed up in December(!) But I keep reminding myself, it's a great way to start the year, raising money and getting fit!'